Movie night - CYRANO MY LOVE (EDMOND, 2018)
Date: 24 Nov 2023, 7:00pm - 9:00pm (GMT+12:00) Auckland, Wellington

CYRANO, MY LOVE (EDMOND)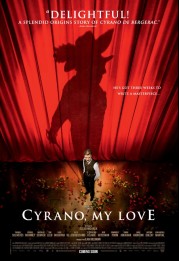 "Cyrano Mon Amour" is a French comedy-drama film released in 2019, directed by Alexis Michalik. The movie tells the story of the creation of the iconic play "Cyrano de Bergerac", which is one of the most famous plays in French literature.
Summary:
December 1897, Paris. Edmond Rostand is not yet thirty but already two children and a lot of anxieties. He has not written anything for two years. In desperation, he offers the great Constant Coquelin a new play, a heroic comedy, in verse, for the holidays. Only concern: it is not written yet. Ignoring the whims of actresses, the demands of his Corsican producers, the jealousy of his wife, the stories of his best friend's heart and the lack of enthusiasm of all those around him, Edmond starts writing this piece which nobody believes. For now, he has only the title: "Cyrano de Bergerac".
Director and writer: Alexis Michalik
Stars: Thomas Solivérès, Olivier Gourmet, Mathilde Seigner
Duration: 1h 52m
Sorry, you've missed the RSVP deadline for this event.