Tour de France des régions
Date: 26 Aug 2023, 6:00pm - 9:00pm (GMT+12:00) Auckland, Wellington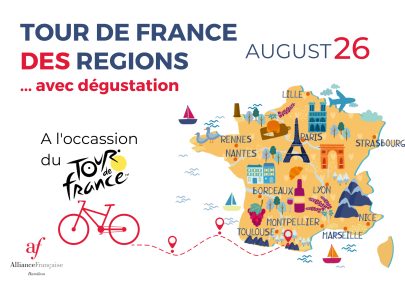 We are delighted to invite you to an evening dedicated to the discovery of the regions of France!
Get ready for a journey through the landscapes and culinary delights of the different French regions.
You will discover the landscapes, the monuments, the people and the music that make each region special and you will enjoy food tasting of products from each region.
We are looking forward to welcoming you all for this unique opportunity to travel through the regions of France in one evening.
Location: 114 Alexandra Street, Hamilton
Members : 20$
Non members : 25$
Sorry, you've missed the RSVP deadline for this event.