Raclette Party
Date: 14 Oct 2023, 6:00pm - 9:00pm (GMT+12:00) Auckland, Wellington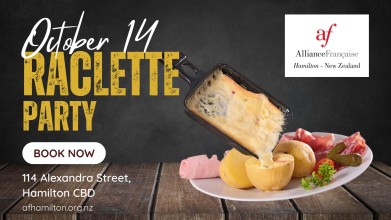 Join us for an authentic taste experience that will transport you to the heart of the snowy mountains of the French Alps.
On 14 October, we invite you to warm up with a delicious and comforting raclette, one of France's most popular specialities. Immerse yourself in the warm atmosphere of a real mountain meal, where the melting cheese and the side dishes will delight your senses.
Whether you are a cheese lover or simply looking for a pleasant evening with friends, this raclette evening is made for you.
Price includes raclette cheese, 3 selections of cured meat, potatoes, pickles and fruit salad. Wine and light beers will be available for purchase on site.
Sorry, you've missed the RSVP deadline for this event.