Beaujolais Nouveau with Benjamin Piat concert
Date: 16 Nov 2023, 7:00pm - 10:00pm (GMT+12:00) Auckland, Wellington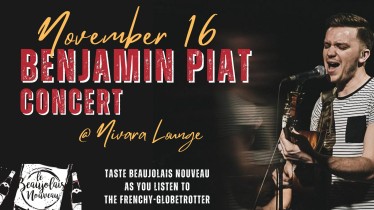 A fantastic opportunity to listen to the Frenchy-globetrotter as he tours in New Zealand.
Get to know about Benjamin Piat's music with an extract of his last tour in France:
video
As a pleasure does not come alone, we will also celebrate the Beaujolais Nouveau that will be available for purchase at the NIvara Lounge.
Enjoy a glass of wine, relax to the sounds of a warm-up act featuring a couple of faces from the Alliance, and get ready to hear our international visitor.
Reserve your ticket online before noon Tuesday 14 November.
Sorry, you've missed the RSVP deadline for this event.